It is the machine to press in order to increase the density of coated web material or to adjust the thickness of foil. It is widely used in 2nd Lithium Battery Field.
Pressing Machine
| | |
| --- | --- |
| Roll Width | Max. 1,200 mmW |
| Machine Speed | Max. 300 m/min. |
| Pressing Type | Hot Roll, Cold Roll, 2 Roll, 4 Roll, Plate |
| Heating Source | Electric, Steam, Hot Oil |
| Heating Temperature | Max. 320℃ |
| Web Material | AI & Copper Foil, Lithium Battery, Fuel Cell, Super Capacitor, etc. |
It is a machine that applies pressure to two or more materials at cold or hot temperature so that the target object is safely adhered and transferred. In the display, touch screen, and printing electronics and other pursuit of miniaturization of high-tech industries for the necessary equipment. The key technologies include uniform temperature deviation of the heating roll surface, remove bubbles during laminating, and precise pressure control.
Optical
Laminating Machine
Electrode
Laminating Machine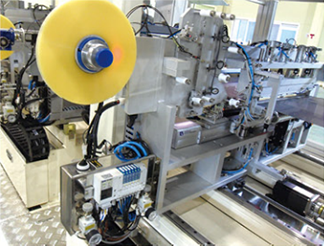 CCM
Laminating Machine(3-Layer)
Sub-Gasket
Laminating Machine (5-Layer)
MEA Steel Belt
Laminating Machine
MEA Roll
Laminating Machine